Ford Cortina Mk2 Saloon Putty Perforated Headlinning. Roof Liner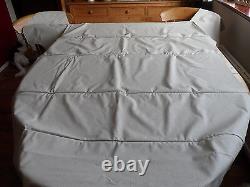 THE PUTTY PERFORATED WAS MAINLY USED ON THE SERIES 2 BUT CAN BE FITTED TO ANY MK2 CORTINA. THESE ARE MADE TO ORDER IN THE ORIGINAL PUTTY PERFORATED MATERIAL. WE USE AN ORIGINAL PATTERN AND MAKE AN EXACT COPY USEING IDENTICAL MATERIAL.
PLEASE NOTE THE BARS ARE NOT INCLUDED YOU WILL NEED TO RE-USE THE ORIGINAL BARS. CARPET SETS CAN ALSO BE MADE IN VARIOUS COLOURS FOR THIS CAR.